Sebastian Bergne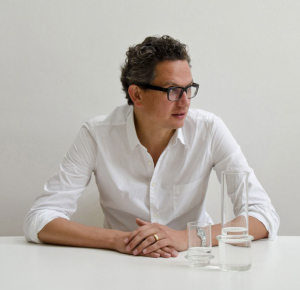 Sebastian Bergne's work is that of a classic industrial designer but always leavened by a profound sense of the way things are used and made in the real world and a whiff of both humour and humanity.

Crossing the worlds of design for mass manufacture and small-scale production, he has developed a recognisable, consistently elegant oeuvre, using everyday materials and the recognisable language of the utilitarian, made poetic. Among his designs are the Dr Spock Light for O-Luce, the IXIX table for Vitra, Natura cookware, the Iron bench in moulded polyethylene and the wonderfully inventive and various combinations of blown glass and cork which make up the Cru range of wine glasses and accessories.

The handle for izé is based on an extremely simple notion of subtraction from a supersized bar. If the bent tube handle has become a ubiquitous symbol of modernity, Bergne's design subverts, distorts and rethinks it so that the quotidian becomes the special. Unusually, the neck becomes the rose and the junction between handle and door becomes a single seamless, fluid sweep.
Sebastian Bergne products